Testimonials
My sister and I purchased three bars of your soap yesterday evening at the Uptown Whittier Festival. I just wanted to let you know we are both in agreement that this is the best soap we have ever used. My skin feels good. I used it on my hair as recommended and my hair feels better than it ever has ever. I was able to comb through it without having to use a conditioner or detangler. I will not go back to using shampoo or any other body soap. Thank you so much for such a great product.

R. Gonzales / Whittier, CA
I LOVE your soap. Met you at the Marina del Rey farmer's market. You were right---my hair has completely changed for the better since I now wash it with your soap! Thank you!

K. Michener / Los Angeles, CA
I bought your soaps from the Palm Springs Villagefest & I fell in love! Thank you for your natural and beautifully crafted soaps, they are the best!

D. Milne / Bellflower, CA
Love this soap. My fiancée found this in Palm Springs, brought it home and I will now only use this soap in my hair. Love from PA!

S. Krupski / Imperial, PA
I met you October past at a Thursday street fair in Palm Springs, and apologise for taking so long to write you.

I'm so p!eased with your product, it is everything you promised. I was hesitant about using it on my hair, you assured me that I'd like the results. I surely do! It rinses like a dream, leaves my hair soft and shiny My hair is very dark, but heavily grey around my face, which is now bright and stays that way, no seperate shampoo for grey hair to use every week.

Thank you for making a quality product, selling it gently, and making it available on line.

S. Witter / Phoenix AZ
I met you a number of years ago and started using your soap. I live in Canada and I'm only down in Palm Springs area once a year and during Covid not at all. I buy 14 bars at a time for me and gifts for other people. I absolutely love your product and so do the people who are the lucky recipients of the gifts. I finally used the soap to wash my hair. I am completely hooked. Looking forward to seeing you again.

Gail S. / B.C., Canada
Meeting you and finding your soap was a highlight of my trip - It is luxurious!! We can't wait for our new soaps to waft through our apartment!

K. Del Gaizo / New York, NY
I'm hooked! I don't trust any other soap for my hair!

H. Moreno / Hawthorne, CA
Your soap is absolutely luscious to use. The lather is sumptuous and washes right away, hair and body soap I love you.

K. Graves / Beaverton, OR
I bought a variety of your soaps at the Marina del Rey farmers market on Saturday. I cannot thank you enough. I almost can't stand the way I smell so good - My hair just seems to be more voluminous and also smells amazing, as does my house. Your products are amazing.

L. Feldman / Marina del Rey, CA
Three girlfriends and I were at your West Hollywood booth last Sunday. One of my friends bought all of us luffa washcloths and I bought three bars of soap.

My husband and I love your products!!!! We will be buying your soaps again and again. I am looking forward to trying all of them.

Bravo! you have a great product.

Best,

K. Nikitas / Los Angeles, CA
I am so grateful for your heavenly, nourishing, moisturizing soap. Everything about it is perfect - the blissful fragrance, the pure minimal natural ingredients, the soothing rich creamy lather. (And the fact that it maintains all of these properties down to the very last precious morsel.) It is absolutely the best soap I have ever used. I feel so fortunate to have found you.

S. Fagiola / Wallkill, NY
I purchased a bar of your soap at the horse show yesterday. At first I thought it was just good soap with a great smell. Hah! I washed my hair and whole body with it and it's all and more than you promised! Wowza.

C. H. Staller / Califon, NJ
We found your soaps at the Palm Springs Market last September and have not found anything close to yours since, even at the Philly Flower Show (~5-6 specialty soap vendors) and other farmers markets across the northeast--your soaps are AMAZING!! THANK YOU!!!!!

D. Reimel / Clarksburg MD
Love your soap - found it at the Palm Springs market this winter. Am now sharing it with family and friends who are also raving.

K. Sale / Chesterfield, MO
Found this at the Palm
Springs Thursday market. I'm now hooked. Delicious smelling soaps.

M. Wildfeuer / May 2019
Bought some of your soap earlier this year in Palm Springs and love it! I live in Toronto though. Any chance you can ship to Canada?

J. Dicker / Toronto, Canada
Product fragrance is phenomenal, I truly appreciate a quality soap bar with no packaging and clearly made with love care and organization(the bars are labeled with the sent/s). Will be buying again

M. Omalley
I purchased one of your soaps on Wednesday at the Palm Desert farmer's market. My name is Stacey and I mentioned to you that I lived in France... just to situate me... I fell in love with your soaps, as did my whole family, so I wanted to purchase some more.

S. Pryor / Paris, France
I used the Eucalyptus an Cedar soap that night and it is truly my favorite ever! I plan to always use this company from now on.

S. E. Ponder / San Diego, CA
I haven't been going to the Palm Springs Farmer's Market in a while--no excuses--just lost track of the time on Wednesdays. But, I will get back to going just to buy your soaps. What a terrific surprise finding your silky and moisturizing goat-milk soaps. I love how they look, how they smell and how they feel. I really go crazy for soaps and I enjoy exploring new scents and you have some beautiful combinations that really work well. They are truly divine!

C. Tuzzolino / Palm Desert, CA
I stumbled upon Pëurr Soap Company during a trip to Palm Springs. I've always been a fan for excellent quality handmade soaps and Pëurr is one of the best I've tried. The 3 bars I purchased are all gone and I just received my next shipment today. I love these so much that I sent a shipment to my good friends in Hawaii! I'm sure they'll love it as much as I do!

A. Furumoto / Union City CA
Oh my goodness! I just showered and shaved with the new Rosemary and Birch Tar soap and I tell you, that is like sticking your nose in a glass of 18 year old Scotch Whisky from the Isle of Skye!! Overtones of smoked peat straight from the Highlands. Makes me want to put on me kilt, break out the pipes for a pibroch and then have a wee dram! WELL DONE!"

R. Scheyer / Seattle, WA
Hi I LOVED my last order so I am going to buy more. They really did last 30 days.

T. Cantlin Glendale, CA May, 2020
I absolutely love the soaps I ordered from you. They smell fantastic, my skin is so very soft, and my hair has never felt better! I am buying more soaps now to give as gifts

V. Cazares Glendale, CA May 2020
I bought your soap last January when on vacation in Palm Springs. It is absolutely the best soap I have ever used; a perfect balance of suds, moisturizing, and glorious fragrance. I've used it to wash my hair with luxuriously conditioned results, and my skin feels silken after showering. Lastly, the purity of it seals the deal for me. Thanks for your professional integrity.

M. E. Kinney - New Brighton, MN
I bought my first at the Thursday street fair in Palm Springs. I love your products!

M. Trudeau / Lebanon, OH
Each 6 ounce bar of PËURR® soap contains three timeless and wholesome ingredients; extra virgin olive oil,  raw goat's milk, and pure essential oils. That's it. When combined with sodium hydroxide (lye), these three ingredients create one of the most, if not, the most moisturizing and skin softening soap available. 
For thousands of years, extra virgin olive oil and goat's milk have been consumed for their nutritional benefits.  When these two ingredients alone are used in soap making, they produce a soap that hydrates and softens the skin without the need for any other ingredient.
At PËURR® Soap, we only use pure essential oils, such as French Lavender, Australian Eucalyptus, Moroccan Rosemary, Indonesian Patchouli,  American Cedarwood, Sage, Clove, Palmarosa, Lemongrass, and many other essential oils for their exquisite fragrance. Essential oils have antiviral properties, and the importance of this can't be overstated, especially these days. 
 Our skin produces it's own moisturizer naturally. It's called Sebum, and it's produced by our sebaceous glands. The older we get, our skin produces less and less of this natural moisturizer. This is why it only makes sense switching to a gentle all olive oil soap. Allowing your skin to retain some of that natural moisturizer it's producing is the key to hydrated skin. And with 32% goat's milk in every bar of PËURR® soap, enzymes in the milk leave your skin silky soft.
We will not use coconut oil (sodium cocoate) in our soaps. This is because coconut oil, when used in soap and is saponified, can be drying. We also will not use palm oil (sodium palmate) or tallow (sodium tallowate) either. These oils produce strong soaps that wash the natural moisturizer our skin is supposed to be moisturized with away. Many of us are familiar with the phrase; don't use soap on your face because it's drying.
To be clear, we have nothing against coconut oil. The people of India have been putting it on their skin for thousands of years. Coconut oil, when saponified, makes an excellent, all natural and environmentally safe laundry detergent.  
It's no secret the lotion industry has become a multi-billion dollar a year industry, and it wasn't created by accident. Our hands need moisturizing every now and then, after all, we're using liquid soap in public restrooms all day long. However, if you're having to apply moisturizer after showering because of extremely dry skin? Chances are you're using soap made with either coconut oil, palm oil and or tallow, or a combination of all three.
  The slick, rich and creamy lather of PËURR® soap is so gentle and moisturizing, it is excellent for Face, Body, Hair, and Shaving. 
At PËURR® Soap, we believe in environmental sustainability, this is why we have minimized our packaging so there is less to throw away.
When traveling, all you need is your bar of PËURR® olive oil and goat's milk soap, and say goodbye to plastic single use bottles in the shower forever!  We believe the future of skincare is simply one bar for everything.
  We are confident that our handcrafted PËURR® olive oil and goat's milk soap will leave your skin and hair velvety soft and give you the best shave you've ever had. If you are not completely satisfied with any purchase from us, just let us know, and we will refund 100% of your purchase, including shipping.
PËURR® Soap has become a thriving business with customers all across the U.S. in just a few years, including customers in Australia, Cambodia, Canada, France and Mexico. 
Pamper your skin and hair with a bar of PËURR® soap today. You'll be glad you did.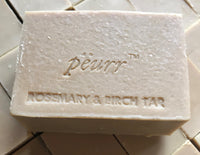 **New** PËURR® Rosemary & Birch Tar Olive Oil and Goat's Milk Soap
Ingredients: Sponified extra virgin olive oil, raw goat's milk, Rosemary, Birch tar essential oil 
FACE     /     BODY     /    HAIR   /    SHAVE
Shop Now