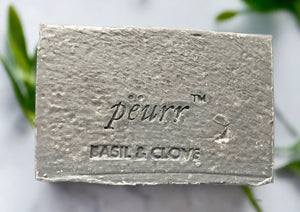 PËURR® soap contains NO colorants, phosphates, sulfates,  surfactants, hardeners or artificial chemicals. 
Ingredients: Saponified Extra Virgin Olive Oil, Raw Goat's Milk, Basil, Clove Essential Oil, Activated Charcoal
Basil Essential Oil is known to be good for:  Arthritis, Bug Bites, Headaches, Mental Alertness, Muscle pain and stiffness and tension. Basil essential oil is also know for its antibacterial, antiseptic and antiviral properties. 
Clove Essential Oil is known to be good for: Aging skin, Insect repellent, Muscle pain and stiffness, Rheumatism. Clove essential oil is also known for its anti-bacterial, anti-fungal and anti-inflammatory properties.
Activated Charcoal is known to be purifying.
     6 oz. Bar (+-)
           100% Money Back

 If you don't love how soft and hydrated PËURR® soap leaves your skin and hair, or not completely satisfied with your purchase from us; we will refund 100% of your money, including shipping, no questions asked.
No Animal Testing / Meets ISO Guidelines