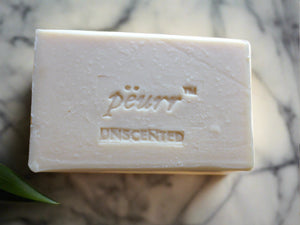 PËURR® soap contains NO colorants, phosphates, sulfates,  surfactants, hardeners or artificial chemicals.
Ingredients: Saponified Extra Virgin Olive Oil, Raw Goat's Milk
6 oz. Bar (+-)
100% Money Back
 If you don't love how soft and hydrated PËURR® soap leaves your skin and hair, or not completely satisfied with your purchase from us; we will refund 100% of your money, including shipping, no questions asked.
No Animal Testing / Meets ISO Guidelines