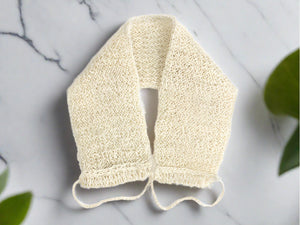 This natural Agave fiber back scrubber is crafted by the indigenous Otomi people of Mexico.  
Agave is wild harvested from a mountainous region in Mexico's central plateau and hand spun into yarn, then handwoven into these lovely back scrubbers.  Being a natural fiber, they soften with use. Quick drying and mold resistant. With minimal care lasts 6 to 12 months. Simply rinse completely of  soap, wring as dry as possible, open up and hang on some type of hook to dry. Due to the antibacterial properties of agave fiber, your back scrubber will always stay fresh and will never need to be washed in the washing machine.
Measures approximately 22" X 5" (excluding handles). Unlike the agave washcloths, these back scrubbers hold their shape and shrinkage is very minimal due to the weave.
100% Money Back
 If you are not happy with any product you purchase from PËURR® soap, you may return it with no questions asked for a full refund.